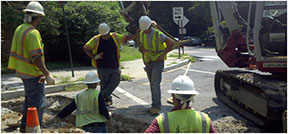 The Road to Success is always Under Construction.
Design Teaming arrangements insure Great Seal's Commitment to meeting your project Objectives.
Great Seal is able to structure Design Teams which are tailored made to meet every aspect of the clients agenda through our network of design professionals and consultants in many jurisdictions in Virginia, Washington DC and Maryland.
Professionals include:
Geotechnical Engineering
Civil Engineering,
Structural Engineering,
Mechanical engineering,
Electrical Engineering, and
Plumbing Engineers.
Consultants Include:
Contractors
Developers,
Construction Management,
Universal Design Consultants,
Energy Modeling, and
"Aging in Place" Consultants.